A Century-Old Sea Captain's Home Turned Inn.
Lindenwood Inn is a bed and breakfast near Acadia National Park and Bar Harbor, Maine. This former sea captain's home was built in 1904 for Nettie and Otis Mills. Located near the ocean, just steps from the harbor in the quiet village of Southwest Harbor, this grand historic home is filled with stories. It has served as a place for travelers to call home for more than a century, first as a home, then as an inn beginning in the 1970s. While countless stories have been shared within its walls over the decades, one highlights the Inn's life as a family home turned inn.
The third floor (now the sought-after Penthouse Suite) once served as the widow's walk where Nettie Mills would watch for her husband to come home from his seafaring adventures. Just as Nettie welcomed her husband home over the years, eager to discover what worldly stories and treasures he returned with, owners Milan and Jim look forward to welcoming you to the Inn and hearing your stories. They invite you to carry on the home's tradition by considering It your home away from home in Maine.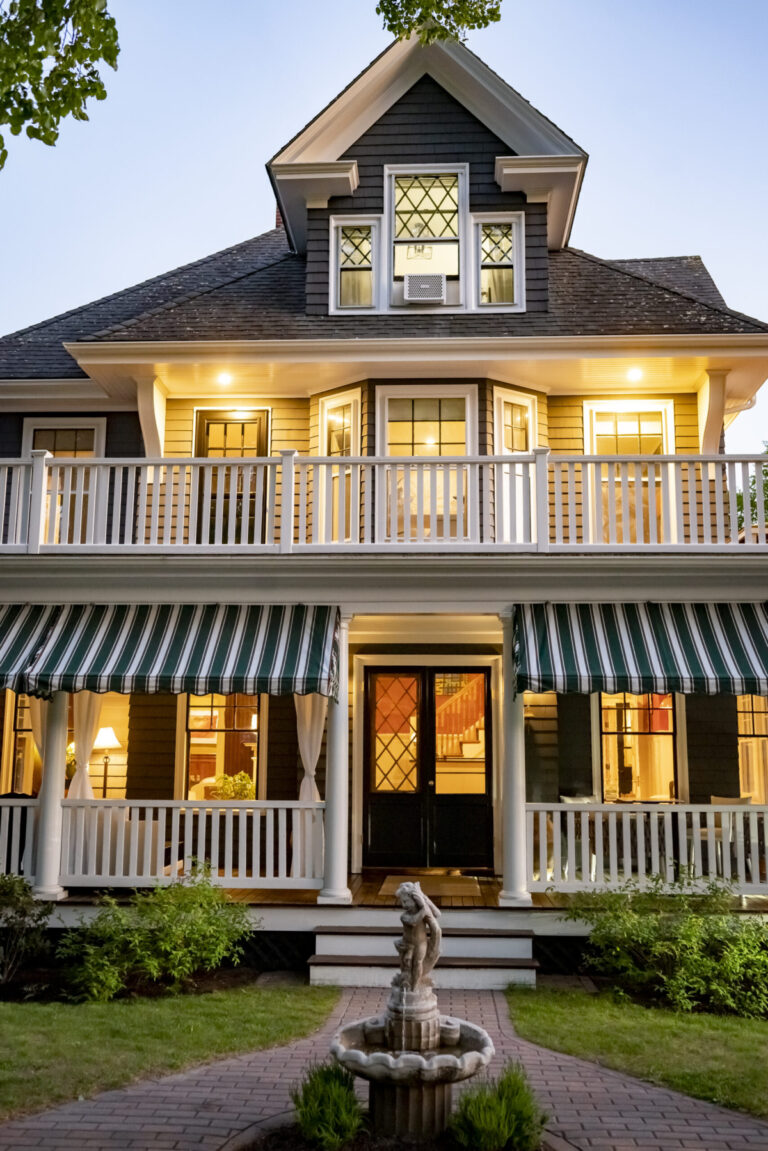 Jim's Journey
In February of 1993, Jim purchased the Inn, keeping the Lindenwood Inn name. Jim was born in Australia and loves traveling the world. After getting mugged in NYC on one of his adventures, he went to the Port Authority, explained his situation, and was put on a bus to Bar Harbor, Maine by the caring woman behind the counter. This chance journey was the beginning of Jim's story in Maine.
Shortly after purchasing the Inn, a nor'easter blew off half the roof and the furnace went out. Jim immediately got to work putting his touch on the Inn as he made the repairs and soon after started welcoming guests. He planned to run the Inn for about five years, yet he felt the island's pull as he returned to open the Inn each season. Eventually, he knew he had two homes-one in Australia and one in Southwest Harbor-and obtained dual citizenship.
A former cabinet and furniture maker, Jim's design touch is infused throughout the Inn. His love for art flows throughout the Inn with carefully gathered pieces from his adventures around the world. What Jim loves most, however, is connecting with guests and welcoming them to the space he has lovingly created over the years. He knows we are all on a journey and appreciates the opportunity to provide travelers with modern comforts and simple luxuries during their stay at Lindenwood Inn. Jim is thrilled to celebrate his 30th year owning the Inn in 2023.
Milan's Journey
Milan came to the Inn in 2009 as a student worker from Belgrade, Serbia, and fell in love with Mount Desert Island and Southwest Harbor. In 2014, he returned to the island and accepted a job in Southwest Harbor at the marina just down the street from the Inn. Upon his return, he reconnected with Jim and soon after, returned to working at the Inn. Milan's engaging personality, passion for connecting with guests, and dedication to ensuring smooth operations at the Inn were apparent. Jim knew Milan would make a great innkeeper and Milan now proudly co-owns the Inn with Jim. Milan is also a dual citizen and considers both Serbia and Maine home.
While Milan and Jim pour their hearts into creating one of the best bed and breakfast experiences on the coast of Maine, the inn wouldn't be what it is without the attentive, caring staff members who are always eager to pamper guests. Whether it's serving breakfast, suggesting restaurants, or giving directions to hiking paths, they are always available to answer questions and make sure are having a comfortable, relaxing, and happy stay. Like Milan and Jim, they, too, love sharing stories about their journeys near and far and they look forward to hearing about your journey to Lindenwood Inn.
The "New" Lindenwood
As Jim phases out and Milan phases in, together, they have worked hard to create the "new" Lindenwood. Staying true to the Inn's charm as a sea captain's home, Milan and Jim have lovingly filled the Inn with art and furnishings from their journeys around the world. They welcome you to retreat to Lindenwood and consider it your home away from home as you pass through on your journey. They hope you, too, will feel the pull of the island that has brought them back year after year. They look forward to welcoming you to the Inn, whether it is your first visit, or you are returning to 'your room' as a long-time member of the Lindenwood Inn family.